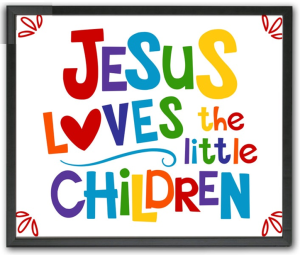 Here at Grace Baptist Church, we believe in investing in the young people – the next generation!  Children are important to God, and because of that, they are also important to us!  Jesus said to let the little children come to him and forbid them not.  Samuel was called by God while he was of a very young age.
Children are still being called to be close to Jesus by means of summer ministries like Bible camps and Vacation Bible School.  Many children have made decisions to trust Christ for salvation and even to live life for Jesus Christ during these ministries!  Below are a few pictures of our church kids and the fun they have during such times.  
Vacation Bible School -Held every year during the first full week of August from 9 am – Noon. We usually provide bus service for children ages 5-12 for this exciting outreach.  Kids enjoy learning new songs, memory verses, Bible stories, exciting skits, and fun outdoor "carnival" games that coordinate with our chosen theme!  It is the most fun of any VBS around!  We always emphasize the Gospel message and are privileged to help many young ones place their trust in Jesus Christ alone for salvation!
This summer outreach provides many avenues of service for our church family at Grace Baptist Church.  We keep approximately 50 workers busy working with classes, games, bus routes, secretarial duties, refreshments, toy shop, and even kitchen cooks who make a meal for all the workers to enjoy before they head home from a full morning of service!
We also have a TEEN BLAST that we host during the early evenings for Monday – Wednesday during the same week as our VBS.  We do not run the buses, but can sometimes provide transportation if you will call the church to arrange for it.  This is a lot of fun for the teens in our community and provides for them the opportunity to connect with Christian youth and to hear the truths of God's Word.  This is a very competitive event with the teens divided into 2 teams, earning points in the games, singing, Scripture memorization, and in bringing friends.  Each evening they are served fun teen food, such as pizza, nachos, hot dogs, and more!  We encourage all teens to come and get in on the fun!
Summer Bible Camps – In June & July our children have the opportunity to attend church camp.  Camp is a great place to get away from worldly influences & develop a closer relationship to Jesus Christ.  Some of our church teens choose to spend their entire summer working on camp staff at the Circle C Baptist Ranch in Lexington, KY.  This has always proven to be very fruitful in developing the character of those who do so!
A CLOSER LOOK AT VBS!