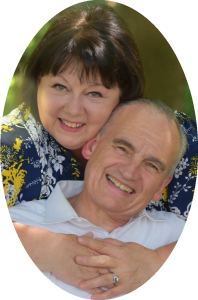 Our Pastor, Charles D. Kaighen, was born and raised in Missouri, the son of good, Christian parents. At the age of 19, having gotten into much trouble, he was made by his parents to attend Open Door Baptist Church in Kansas City, Kansas, where he heard the Gospel clearly with conviction for the first time. Discovering what it truly meant to trust Christ and be "born again," Charles received the free gift of eternal life. God changed him from the inside out, and within six months of his conversion, he entered Bible College to seek God's perfect will for his life.
Within two years, he was called to preach, and by the time of graduation four years later, he had met and married Elaine Watts on June 3, 1979.
In January 1980, Charles took the pastorate of the Bible Baptist Church in Plattsburg, Missouri, where he pastored for two and a half years. Having resigned that ministry in August 1982, the Kaighens with their two daughters moved to Harrisonville, Missouri, to start from scratch an independent, fundamental, Baptist Church.
Working an evening shift in Kansas City and knocking doors in Harrisonville by day, the meetings started in the Kaighen's living room. Within two weeks they were able to move the meetings to a little wood-frame building. Three and a half years later, they moved to the present location of 500 East Pearl, where God has wonderfully supplied and clearly displayed His hand on Pastor Kaighen's ministry for the past 40 years.
The Kaighens are blessed with five daughters and 10 grandchildren!
Pastor believes that strong marriages and families are the key to a lasting and fulfilling Christian experience. This theme is woven throughout much of his preaching. His heart for the lost and the evangelizing of the world is the centerpiece of his ministry. Discipleship and training are emphasized as well. "Equipping the saints for the work of the ministry." Any Bible-loving Christian who is concerned about making a difference in this present world has the potential to flourish under this ministry!