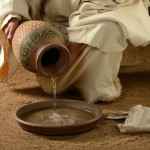 Grace Baptist Church of Harrisonville, MO has many opportunities for serving!
Our Saviour, Jesus Christ, taught that being a servant is the greatest of all and that losing one's self is the way to truly live!  Those who invest their lives in serving through the local church find great fulfillment in laying up treasure in Heaven.
You can find a more in-depth description of the Grace Baptist Church ministries by going back to the Home page and clicking the drop-down menu buttons underneath "Ministries" on the menu.
We are a growing body of believers and desire to expand our ministries even more!