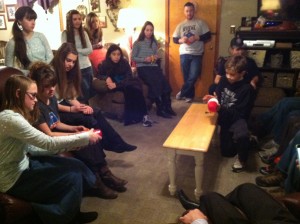 Fellowships – We enjoy a variety of fun activities throughout the year!  Many church families host outings at their home place .  We also have smaller group activities as well for the men, the ladies, the children, or the teens.
Prayer Ministries – The men are encouraged to join Pastor for early morning prayer throughout the week to pray for revival in our land and churches.  The ladies are encouraged to have a prayer partner friend with whom they pray during the week.  These are all in addition to the regular Wednesday evening prayer groups. Saturday nights at 7:00 Pastor sends out a prayer prompter text to the church families encouraging them to pray together as a family for the Sunday services.
Grace Baptist Church reaches out to the community, to both the spiritual needs as well as their physical needs.
It is our desire to reach every person in our county with the Gospel message.  One of the ministries to help accomplish this goal is the door-to-door outreach.  Each week a group goes out into the neighborhoods of Cass County to meet and greet our neighbors!  We offer the message of Jesus and salvation to those who would be willing. We also offer free bus service to our Sunday morning services.  If parents are not able to come, but are willing to send their children, we offer bus service to children above 4 years of age.  Grace Baptist Church loves the bus kids!
Every Sunday morning we serve a breakfast at 9:15 am.  Everyone is invited to fellowship at this meal from 9:15 til 9:30.  At 9:30 we have SING TIME with the children before they are dismissed to their individual classes.