Pastor & Mrs. Kaighen are experienced at home schooling, as all 5 of their daughters were home-schooled for several years.  Grace Baptist Church has several home-school families at the present time who fellowship together and encourage their children in ministry.
Three times each month the home-schooling families meet together with Pastor Kaighen to prepare a program for the elderly in our community's nursing homes.  This provides good social skills for the students involved.  They are taught how to meet and greet and communicate with the elderly.  They are trained to sing and perform to entertain and minister to the residents at the nursing homes.  This outreach brings great joy to the elderly and provides tremendous training for the students. These services consist of much singing, sharing of God's Word, and personally visiting with each of the elderly in attendance.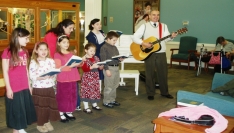 Most of the students take music lessons and are able to play instrumental pieces for the program.  The students involved range in age from pre-school to high school!  These families are sometimes able to plan a lunch and play time together after some of the nursing home programs.