HOMESCHOOL ARTS & CHAPEL CO-OP
Beginning September 17th every Thursday throughout the school year  from 9 am – 11:00 am, we will host a Chapel, Crafts, & Music time to enhance your HOMESCHOOL CURRICULUM.
This serves as an opportunity for your children to interact with other home-schooled children and to have a Chapel service for their spiritual development.
We will also teach basic music skills and enjoy developing creative, artistic abilities.
SCHEDULE: 
9 am – 9:45 am  MUSIC TIME
9:45 am – 10:00 am  CHAPEL
10:00 am – 10:45 am CRAFTS
10:45 am – 11:00 am  MUSIC CLASS
*To see our church's doctrinal statement, check out our Doctrinal website page 
To enroll, send us an email through the CONTACT US page on the website.
Please include the names and ages of the students who will attend, so we can better prepare.
*************************************************************************
Pastor & Mrs. Kaighen are experienced at home schooling, as all 5 of their daughters were home-schooled for several years.  Grace Baptist Church has several home-school families at the present time who fellowship together and encourage their children in ministry.
Once each month the home-schooling families will prepare a program for the elderly in our community's nursing homes. This provides good social skills for the students involved.  They are taught how to meet and greet and communicate with the elderly.  They are trained to sing and perform to entertain and minister to the residents at the nursing homes.  This outreach brings great joy to the elderly and provides tremendous training for the students. These services consist of much singing, sharing of God's Word, and personally visiting with each of the elderly in attendance.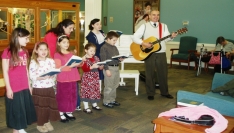 For the students who take personal music lessons, they are given the opportunity to play instrumental pieces for the program.  The students involved range in age from pre-school to high school!  These families are sometimes able to plan a lunch and play time together after some of the nursing home programs.
The home-school families are a great asset to the church body, and would be a good source of support for any future members who wish to home-school their children.